A lot business owners and bloggers focus on churning out tons of great content on a regular basis that they seem to overlook an equally important matter: getting their content in front of the right eyes. In other words: they forget they also need to get blog subscribers.
And I'm not talking about just any kind of blog subscribers. But the ones that matter.
Let me give you an example of personal failure. When I first launched the Idunn blog, I was so focused on imparting all the knowledge me and my team had on digital marketing and copywriting, that I forgot the main purpose behind all our endeavors: growing our business.
Yes, we got plenty of blog subscribers. But they were mostly copywriters looking for jobs or for industry tips. Don't get me wrong: I love helping. I still answer emails from writers that ask for advice (free of charge, of course!). Still, that wasn't our main purpose.
So I proceeded to purge our mailing list and our content calendar. We shifted the focus from highly technical articles written in a lingo that copywriters and digital marketers are familiar with it to articles that speak to business owners first and foremost.
The result?
Well, a significant drop in traffic and blog subscribers at first. But I wasn't worried about that. I never cared much for vanity metrics. We are a digital marketing and content writing firm, so it was about time we got some brand awareness as such.
In a couple of months, things started to take a turn for the better. We started to get blog subscribers that mattered for our business and even leads.
We were on the right track!
So I know firsthand what relevant blog subscribers can mean to a small business. Now let's see how you can get them for yours.
7 Ways to Get Blog Subscribers that Matter to Your Business
Since I mentioned vanity metrics earlier, let me follow up on that: I won't be teaching you how to get "10.000 blog subscribers in a week". There are plenty of click bait articles that claim to do that.
What I want to talk about is getting relevant subscribers, the kind that can help you meet sales targets. The kind that can turn into brand ambassadors.
Not every blog subscriber is a lead. Yet. But the right ones can turn into leads at some point or can send your content straight to their friends and business relations that are qualified leads for your business.
In a study by Ascend2, email marketing was deemed as the second most effective digital marketing channel. This alone should be enough to get you to invest more time and more effort into getting the right blog subscribers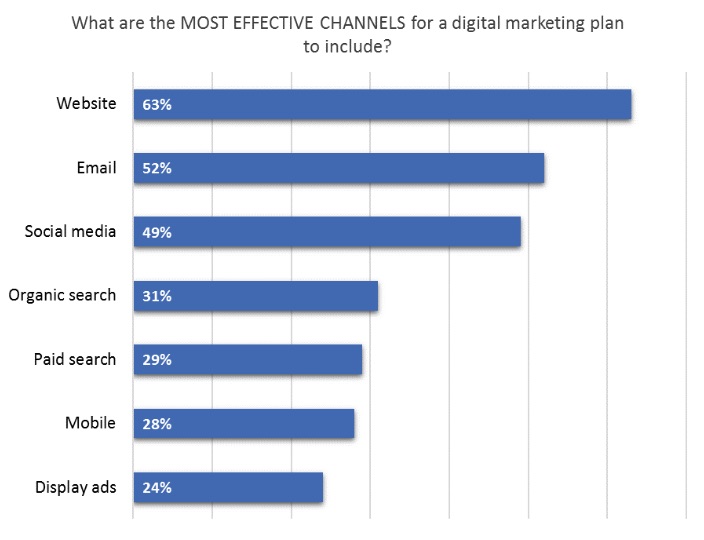 Image via Ascend2
Let's dig in.
Guest Blog
If your blog isn't getting enough traction (yet!) consider guest blogging on high authority platforms. In your bio, include a link where people can subscribe to your own blog.
This link can be to a dedicated subscription landing page or to your blog – if you have a powerful CTA that invites all readers to subscribe. Whatever you choose, make sure that your subscription form is visible enough. You don't want people to search for it – they most likely won't!
Why is this a good tactic?
If you choose your guest posting platforms wisely, then your articles will get right to your target audience. For instance, Pop Sugar is the place to be if you are selling beauty products or services or cater to moms.
Redirecting that kind of massive audience back to your website could be a goldmine. In terms of both traffic and ROI, of course.
If you're out to get blog subscribers that matter, your website might not be the place to start. Ironic, isn't it? But why not leverage other websites' audience?
Pro tip: make sure your research is thorough and the platforms you are guest blogging on are relevant to your small business. Otherwise, the blog subscribers you will get will be irrelevant.
Give Them a Reason to Subscribe
You may think this is obvious, but you'd be surprised at how many people forget about the CTA. CTAs aren't important just for writing perfect blog posts, but for getting the perfect subscribers, too.
Your subscription form should give people a good reason to entrust you with their personal information. We live in an era when information is the most valuable resources. And, justifiably so, you are encouraged not to give your address to anyone who asks.
So why should people give you theirs?
That's where a powerful CTA comes into play. Tell them why succinctly.
"You'll be the first to get our latest articles."
"We have special promotions exclusively for email subscribers."
"Only email subscribers get access to the best articles."
All of these are good reasons why people should take a leap of faith and type in their name and email address. However, if you promise them something, make sure you also deliver! Otherwise, they will unsubscribe from your list faster than you can rejoice in seeing your numbers grow!
Gate Some Exclusive Content
Borrow a page from the manual of top bloggers like Mark Manson. You see, his blog is completely free. For everyone.
But some of his articles are only available to his blog subscribers. And according to his home page, there are millions of those.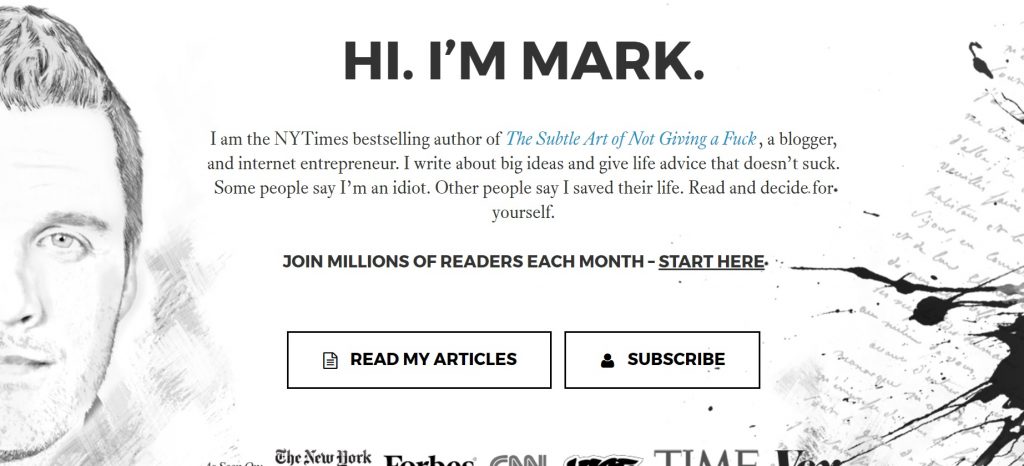 Now why would someone like him want to get even more blog subscribers? You guessed it: even for New York Times bestselling authors email marketing is still a valuable resource.
Make it a Game
Nothing makes people click on (almost) anything than a competition or a contest. Again, make sure it's relevant.
For instance, don't offer generic prizes like an iPhone 7 – everyone's going to want that. And you want to get blog subscribers that are relevant, not just any subscribers.
Offer a free audit for three lucky winners if you're selling services. Offer a longer SaaS free trial (six months instead of one, for instance). Whatever you offer, make sure that it's relevant to people who have the potential of becoming your clients, not just blog subscribers.
Never Compromise on Quality
You'll never get blog subscribers that matter if your content is mediocre at best. Why would people want to read boring articles?
Make sure you have great headlines but go beyond that. Offer authority content that brings your audience relevant information and data.
Be sure that your blog becomes a go-to resource in your industry. Do your research, compile data and write everything in an engaging manner that makes people come back for more.
Getting blog subscribers isn't the ultimate goal: they also need to stick around long enough for you to have the opportunity to turn them into paying customers.
And you can't do that by half-assing your content. If your new blog subscriber landed on an excellent article, you can bet this is what they will be expecting in the long run, too.
Blog Regularly
Speaking of expectations, your subscribers will also want to see fresh content regularly. This doesn't mean you have to blog daily (although it would be great), but it does mean you have to do it constantly and regularly.
For example, we publish two pieces per week on the Idunn blog. I also have a weekly column on Site Pro News and a couple more websites where I guest blog.
Our blog subscribers don't get an email every time I publish a new article (that would be spamming!). But they get a weekly digest that they have grown accustomed to. And that they open quite frequently according to our stats.
For us, email newsletters have proven to be a great lead nurturing tool. However, you may use them for an entirely different purpose. It's ideal to make sure what that purpose is before you set out to get new blog subscribers.
Do A/B Testing
Test everything, from your CTA to the color of the subscribe box. And when you analyze the results, take into account more than numbers.
Take a look at the quality of the new blog subscribers that come from every type of subscription box you are currently using. Which of them generates subscribers that are closer to your ideal persona? Answer that and you will have your ideal combination of CTA, colors and more.
The Bottom Line
Don't try to get blog subscribers by the thousands. Even a couple hundred is enough if they are the right kind of subscribers. And be sure to send out those newsletters as soon as you have more than a few dozens. They may be few, but if you played your cards right, they may also be very promising.
Looking to up your content game and make your subscribers happy? We can help you with the kid of content that doesn't just get clicks, but also ROI:
Get in touch