When you open a new business, finding out where to focus your marketing efforts can be quite scary. We all know startups don't have huge budgets. So you start to ask yourself what are the best marketing channels for a new business.
Or at least you should.
Flying blindly won't get you too far. Word-of-mouth or the usual "a friend told me I should invest in Google AdWords" won't cut it.
If we look at the statistics, we learn that 80% of businesses make it past their first year. That sounds encouraging, right? But if you come to think about it, a business in its first year can run on a small initial investment and a lot of enthusiasm.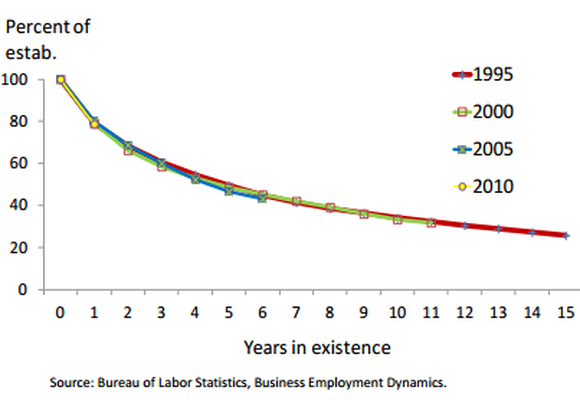 Image via fool.com
I dug a bit deeper and found out that 96% of businesses fail within 10 years. Yes, you read that right – 96%. In other words, your brand new business has a 4% chance of surviving its first decade.
If less than 10 years are enough for you, go ahead and wing your marketing strategy. If not, keep reading and find out which are the best marketing channels for a new business.
Which Are the Best Marketing Channels for a New Business?
Granted, almost every channel has its merits. But are your funds unlimited? I'm going to guess they aren't. You can always choose multi-channel marketing, but that's bound to cost a lot!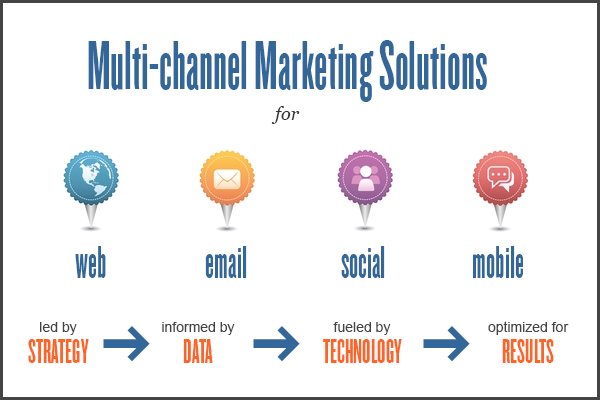 Image via Vis Network
So why spend money from an already tight budget on things that won't have a significant ROI? Why not focus on effective marketing channels instead?
I know what you're going to say – I've heard it so many times from Idunn's clients: "it's hard to know where to start".
And you're right. Just look at the options a local business has.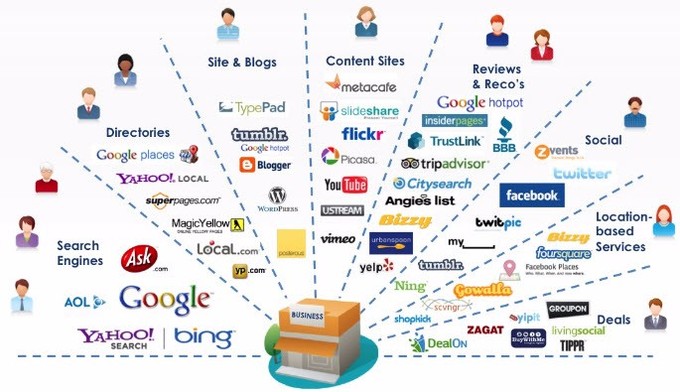 Image via Boundless
Even worse, much of these channels overlap with each other. Or they entail a lot of tactics that are complicated to execute.
But since you can't be on all of them, let's see how you can choose the best marketing channels for a new business.
According to Ascend 2, these are the digital marketing channels that have proven their effectiveness.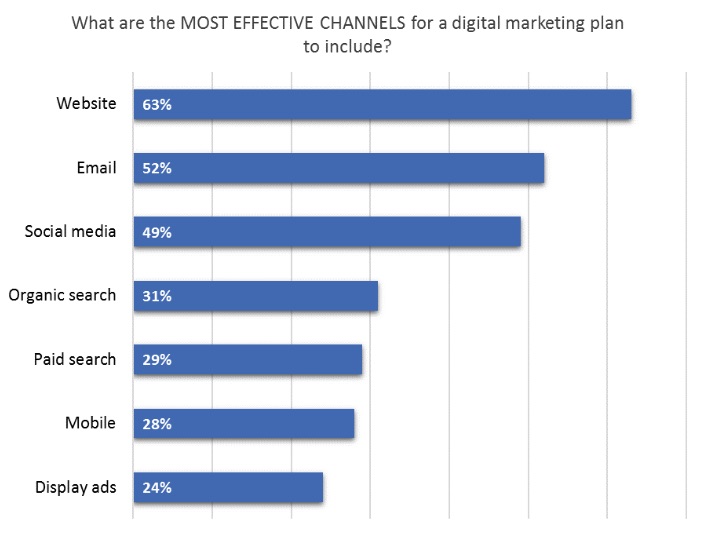 Image via Ascend 2
As you can see, there are quite a lot of them. And that's just for digital. Plus, we need to mention that "social media" entails various tactics and strategies for each social network. You can't post on Twitter what you post on Instagram.
Again, overwhelming.
How to Choose the Best Marketing Channels for Your New Business
What if I told you there is no secret universal recipe. The best marketing channels for a new business can be totally irrelevant for another new business in another niche.
Thus, instead for searching for a recipe that dictates the ingredients to you: "Start with some social media, then hire SEO copywriters and a PR representative", you need to come up with your own recipe.
But don't worry; it's not as hard as it may seem.
In order to find out which are the best marketing channels for your new business, you just have to ask yourself two questions:
Who Are My Customers?
Create a very detailed buyer persona. Go beyond the usual metrics (age, gender, income, job and spousal status) and add details like:
Name (give your buyer persona a fictional name like "Marketing Amanda")
Photo (add a stock photo to your buyer persona profile; this makes it easier for you to address this persona directly)
Information sources (what do they read, which publications do they like, where do they get their news and their professional/personal life information)
Preferred social networks
Preferred shops, restaurants and bars
Preferred holiday type
Type of lifestyle: active, health-conscious and so on
In a nutshell, write down every detail about your buyer persona you can dig up. The more complete the profile, the better your chances of identifying the best marketing channels for your business are.
Where Can I Find My Customers?
Now that you know so many things about them, think about where you can find them. Ask yourself these questions:
What social networks do they prefer?
Do they trust blogs?
Do they read white papers?
Where do they get their morning latte from?
Which news outlets are their primary source of information?
Do they prefer video, photo, or written content?
How to Use Buyer Persona Profiling to Establish the Best Marketing Channels for a New Business
Now that you have all these questions answered, you may be left with a whole new series of choices to make. You see, today's consumers don't limit themselves to a single media outlet or a single social network.
They like to be pretty much everywhere.
But you can't do that.
In order to narrow down your options think about your budget and the time you have to get results. This should give you a good idea about where to start.
For instance, blogging can get a lot of results for your business. But it will take time to work. On the other hand, Facebook ads or another type of PPC ads can work almost instantaneously. They will, however, cost more than blogging.
If you can afford to play the long-term game, you can start your company's blog and wait for it to bring in results in a couple of months to a year. Alternatively, you can invest in Facebook ads right now and gain some revenue that you can later use to boost your marketing efforts.
As far as social networks go, it's a bad idea to spread yourself too thin. Since you can't post the same content all over the place, you may end up with a mediocre (at best) presence or with the need to constantly produce photo, video or written content to fit each platform.
If your budget is very small, start with a single platform. You can have profiles on all the networks, but focus on a single one.
We have seen great results for one of our clients (a tech startup) by focusing on Twitter and blogging. That's it! Naturally, the company will expand its efforts to other social media platforms and increase the blogging frequency. But all in due time.
If you don't have a lot of employees or cannot afford to pay steep fees to your digital marketing agency, I suggest focusing on no more than two marketing channels at once. Choose them wisely and test their efficiency. You have plenty of time to test out other networks or channels in the upcoming years.
Need help choosing the best marketing channels for your new business? We can help you make the choices that bring the best ROI! Better yet, we can help you with innovative and cost-efficient tactics. Fill in the form below and we'll get back to you in 24 hours or less:
Get in touch with start-up marketing specialists