FOMO (Fear Of Missing Out) is real. I'm not talking about missing out on an exotic holiday. But, as most fellow marketers know, about missing out on that digital marketing channel that can take your business to a whole new level.
The multitude of choices is paralyzing to say the least. Every day, we are bombarded with success stories: people that got huge investments in their business from sending out a single email, people who only spend 6 hours per week on social media and get a ton of leads, marketers who focus on blogging and get more leads than everyone else.
Normally, you could say that, sure, you can blog email and do social media.
But wait, there's more!
There are a lot more digital marketing channels. And even if you could use them all, assuming that your time and human resources aren't limited, your budget surely is.
So how can you choose digital marketing channels that truly matter for your business?
First of all, let's take a look at the options you have.
The Most Popular Digital Marketing Channels
For the sake of brevity, I won't get into the specifics of each of them. If I were to do that, I should be writing a book, not a blog post.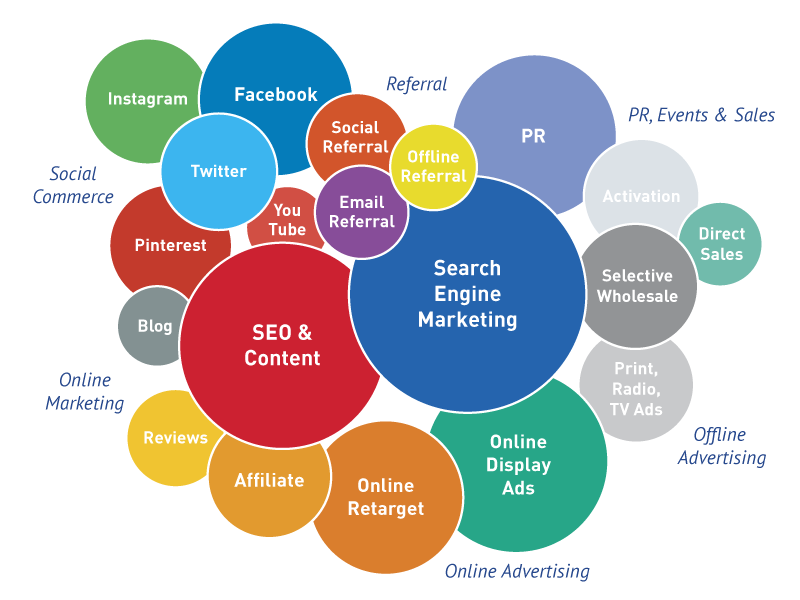 Image via LinkedIn
Email Marketing
Having a lead or a customer give you permission to email them your new offers or promotions can turn into a gold mine. Provided, of course, that your marketing emails a good.
Most businesses swear by it. According to a study, it can provide a ROI of up to 4,300%. Yes, you read that right!
Newsletters, special offers, content sharing, brand building – all these can be done and achieved via email marketing. While it is indispensable for e-commerce companies, almost any business in any niche can benefit from email marketing.
PPC (Pay-Per-Click) Advertising
Whether you choose Google AdWords, Facebook ads or any other type of PPC ads, the results should be the same: get highly targeted traffic very quickly. Both B2B and B2C companies can use PPC ads to get new clients in a relatively short time frame.
This is a great option for new businesses that have no time to create awareness and gain leads through content marketing, email marketing or social media. However, you should know that the success of your PPC ads (irrespective of the platform you choose) is correlated to your budget. In other words, the more you spend, the better your results.
SEO (Search Engine Optimization)
The process of optimizing your content so it can be discovered organically in searches is called SEO. For instance, if you have a bridal shop in Tennessee, you can optimize your website to rank high in SERPs for terms like "bridal shop Tennessee" or "wedding dresses in Tennessee".
Unlike PPC ads, SEO takes time to work. Irrespective of how much you invest in it, your website won't have a high domain authority from the get-go. Also, you may need to hire SEO copywriters for the long run in order to get the rankings you want and keep them.
Display Ads
Want your brand to be seen on a few selected websites? Yes, it can happen! You can be anywhere you want to – from a small local newspaper's website to giants like Forbes or The New York Times. You just have to pay for banner, interstitial, video, overlays or interactive ads.
You can do this by contacting the website you want to appear on directly or using platforms like Taboola or Outbrain that handle all the placement. Just like in the case of PPC ads, the more you spend, the better your results will be.
Content Marketing
Almost 90% of companies are using content marketing. This number grows each year, so that can't be a coincidence. Content marketing means producing and promoting top quality content that will attract potential buyers, help leads make decisions and turn customers into loyal brand ambassadors.
Some of the most popular types of content include: blog posts, white papers, webinars, videos, e-books and more. In fact, almost everything you produce – from a photo for your social media accounts to the copy in your newsletter is content.
Thus, it can be said that everyone uses content marketing. Having a content strategy, however, is a whole different thing. Whether you choose to work with a copywriting agency or produce your content in-house, it is crucial to make sure every single line of text or pixel in a photo is aligned with your marketing and business goals.
Much like SEO, content marketing also takes time to work. In fact, I would argue that content marketing and SEO work hand in hand and should never be separated. If you're ready to put in the time and the effort, content marketing will work. If you're looking for fast results, check the PPC and display ads options again.
Social Media
When you choose digital marketing channels for your business, you have to be selective. Still, social media should always be in the mix. There are very few exceptions for which social media doesn't work (and it's usually because of a poor strategy or implementation).
What you can (and should!) be selective about is which social media networks to be on. There are currently over 60 networks (yes, that many!) and 15 that are incredibly popular.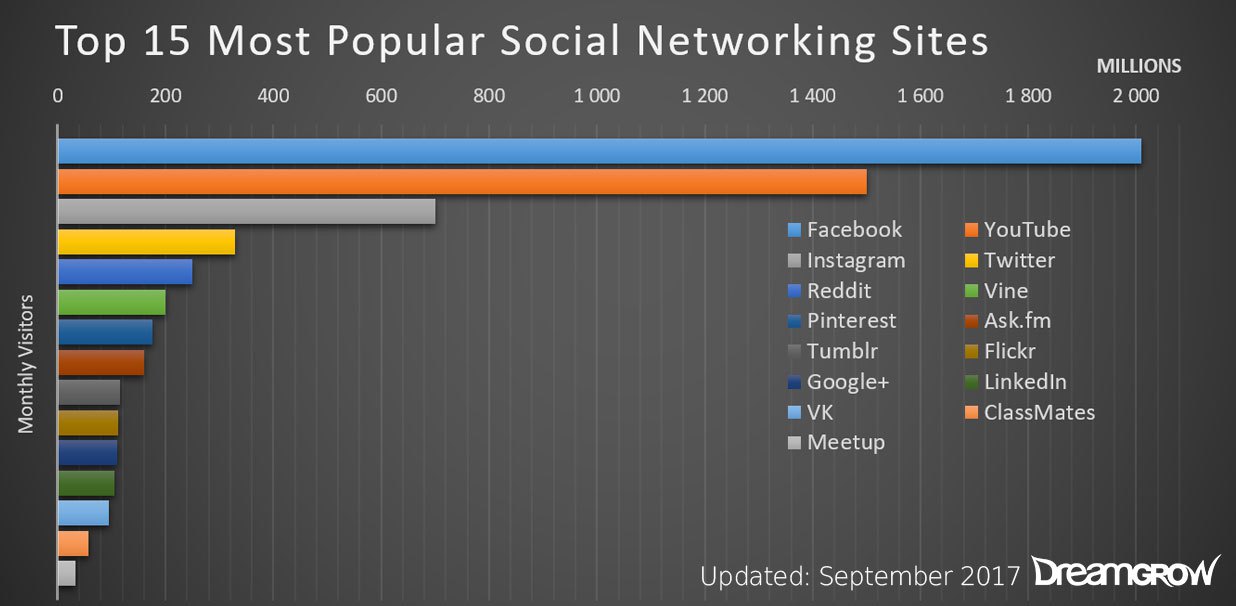 Image via DreamGrow
One of the most common misconceptions about social media is that it's free for businesses. It's not. Especially if you want to promote a new company or brand. You will have to invest in ads if you want to gain any traction. Alternatively, you can invest in brand ambassadors that will help your fan/follower base grow. However, expect your social media efforts to cost more than time.
Online PR
Online PR is about more than using a press release writing service. If you want your news to be heard, the biggest amount you will have to invest will be in online distribution services like PR NewsWire or MarketWired.
Of course, there are also free services that you can use, but you shouldn't expect any real traction from them. As for the paid ones, be sure you budget accordingly – they are anything but cheap.
Affiliate Marketing
Ideal for SaaS marketing, this is a tactic that can prove effective for any business that sells something online, whether goods or services. In a nutshell, you can hire bloggers or website owners to promote your products. This is typically done by adding a link to them. For each sale that is made from that link, the affiliate marketer earns a commission.
Now that we know what we can work with, let's see how to choose digital marketing channels that bring actual ROI, not just vanity metrics.
How to Choose Digital Marketing Channels in 4 Steps
If you're a marketer working for a corporation with unlimited budget, you don't need to read the rest of this article. If that's not your case, then you know it can be hard to choose between all these options, especially if you think about that fact that each of the channels above comes with multiple options of its own.
I would argue that it's hard to focus on more than 4 social networks at once, let alone the other channels. So you have to choose mercilessly. But you also have to be open – a new up and coming marketing channel could appear any day. And you may want to master it before your competitors do.
Unfortunately, there is no one-size-fits-all when you choose digital marketing channels. There is a slightly different recipe for each industry and each company. But there can be a single recipe for making the right choices.
Identify Your Company's Primary Goal
Marketing campaigns aren't designed to bring clicks, followers, traffic or brand awareness. They are designed to bring in cold, hard cash. Vanity metrics aside, the job of a marketer is very similar to that of the board of directors – you need to come up with ways to make your business even more successful than what it already is.
In order to do that, you need to correlate your business' goals with those of your department. For instance, if your CEO is focused on doubling the company's sales in the upcoming year, then your goal can be lead generation, lead closing or upselling to existing customers. It's up to you to decide which of these can serve the bigger purpose in the long run.
This is a crucial first step in your endeavor to choose digital marketing channels. If you need sales fast, PPC ads may be your best choice. If you want to boost brand awareness, investing content marketing or social media may be better. On the other hand, if your product is a cutting-edge one, you may need to start educating your audience. Again, content writing and social media, along with online PR might be your best allies. However, this is not the only factor you need to take into account.
Consider Your Budget
Yes, everyone wants sales to happen quickly. And that can be done through PPC ads. But is your budget cut out for that?
As marketers, one of our greatest skills is doing more with less. You may not have a huge budget to spend on ads, so you need to come up with creative ways to make a difference – after all, anyone can get results with unlimited funds, right?
Social media is a good place to start on a tight budget. But not just any social network. Instead of spreading yourself thin, try to choose those networks that your potential customers really use. If this means not being on Facebook – the most popular of social networks, so be it!
Check out these social media monitoring and listening tools to get an idea where to start.
The same goes for content and SEO. They may not produce instant results, but they will definitely help your company in the long run.
Identify the Available Talent
Whether you're working on everything in-house, with freelancers or with a digital marketing agency, you  need to know exactly what each person can do for you. Writing, editing, graphics, web development, video producing – you will need a bit of each and you need to know if you have everything you need before you choose digital marketing channels.
Let's say you established that a YouTube channel would be the best way to get through to your customers. Great! But do you have a video wizard you can count on? And if you don't yet, how will this impact your budget?
Consider the Long Run
If we could just invest all we have in PPC ads and call it a day, marketing would be much easier. But there is a cap on the results paid ads can bring. At one point, they become obsolete – irrespective of how much you invest in them, at some point you will have reached all those who respond to such ads. And you will need alternative ways or inbound sales.
Even more, people who click on your ads may want to know a bit about you before buying your products or services. How could they trust you if your social media presence is scarce at best and if you haven't produced a single piece of content yet?
In a world where consumers have information at their fingertips, you can no longer "wing it". Your claims need to be backed by social proof and your online reputation needs to be stellar. This is why you can't afford to use a single channel, no matter how well it may work for you right now.
Not sure how to choose digital marketing channels that can bring you excellent ROI? Our team of skilled marketers can help you with a sustainable and high-performing marketing strategy. We're just a contact form away!
Let's talk!