In case you were wondering, content is still king. That hasn't changed and odds are it won't change in the near future either.
But content (the good kind, at least) doesn't happen by magic. You need time, skill and energy to come up with compelling pieces of content.
According to HubSpot, if you truly want to be a game-changer, you should publish upwards of 16 blog posts per week. Add white papers, videos, webinars and podcasts to this and you'll see that content may be the secret sauce of success, but it's definitely not easy to make it happen.
This is why most of today's businesses choose to outsource content writing.
Of course, this comes with a whole new challenge: how to find and hire copywriters?
Believe it or not, even if I used to be a freelance copywriter myself, as soon as I started Idunn, I faced the same problem myself. And it hit me pretty hard, especially since I wasn't expecting it.
Oh, boy, was I confident.
I had been in the game for years, so I thought I knew the ins and outs of the "system" and all the things freelancers say just to get the gig. I thought this would be the easy part. After all, 35% of America's work force is made of freelancers. And that's just America.
How hard could it be to find the good freelancers?
But then reality kicked in and it hit me like a ton of bricks.

Image via knowyourmeme.com
Turns out that not all freelance copywriters are alike and not all of them care about quality and deadlines. Who would have thought, right?
Well, I certainly hadn't. And I met quite a lot of employers who went through the same disillusion.
The truth is that when you set out to find and hire copywriters, you need to be prepared to shed some time AND money. Since it's better to learn from the mistakes of others, here's what you can learn from mine.
How to Find and Hire Copywriters in 7 Steps (and How We Do it at Idunn)
First off, you should know that there is no "one size fits all" when it comes to recruiting a copywriter (or any other member of your team). There will be a lot of trial and error, so you should be prepared for that.
Set Clear Goals
You won't be able to work well with writers and have tangible results if you don't really know what you are after. And I'm not talking about setting deadlines and word counts (although these matter, too).
I'm talking about having a clear content strategy and knowing how the copywriter you plan to hire fits into it. Of course, you can also ask for help from your new hire.
For instance, I never hire SEO copywriters who know nothing about strategy and marketing. And I always encourage beginners to spruce up they knowledge on this. Whether you have a strategy in place or not, a writer with a marketing background is crucial to implementing it right.
As soon as you know what you're after, it will be easier to browse applications and resumes.
What Type of Copywriter Are You Looking for?
Each copywriter has a specialty; and I'm not just talking about industries they are comfortable with. Yes, it would be ideal if you find and hire copywriters that have worked with businesses just like yours. They already know the market and the buyer personas, so half the work is done.
But there's another important classification and it refers to the type of copy they write. You can hire:
Advertising copywriters for your ad copy and taglines
Non-advertising copywriters for your blog posts, white papers or web content (SEO knowledge is crucial here)
Direct response copywriters for email campaigns
As previously stated, marketing knowledge is crucial for anyone we hire at Idunn. I encourage all our writers to get certified in inbound marketing with HubSpot. I know from personal experience how much this helps you deliver better copy in all the above instances.
However, certified or not and whether they admit it or not, all copywriters have strong suits. Sure, they may be able to write email campaigns and white papers, but this doesn't mean they will be equally good.
For our clients, my main focus is pairing each project with the right copywriter. Having a tech writer do taglines is not the best thing that could happen to a brand, trust me!
Start the Actual Quest
As soon as you're clear on all the points above, your initial email or job ad will practically write itself. Now let's see about where you could direct it.
But first, a reality check: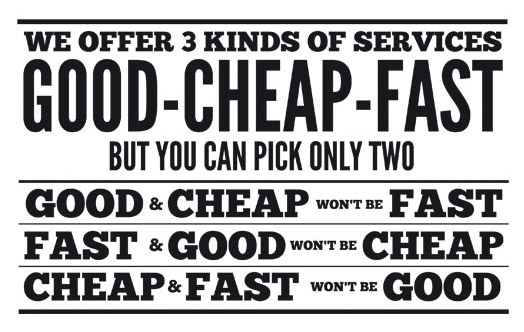 Image via wonderspark.co
I've written about the cost of copywriting services before. Just like in every other industry, you need to be realistic and understand that you get what you pay for. That being said:
Option #1: Freelancing Websites
Freelancer, UpWork and Fiverr are all marketplaces where you will find hundreds (if not thousands) of writers. Take all bids with a grain of salt. Especially those who promise fast turnaround and excellent quality – all for $5 per article.
The one scenario where accepting cheap, bulk articles is this one:
Your boss approaches you and says: "Hey there, I heard about this content marketing thingie and I want to start doing some articles. Let's do the first five by Monday, OK?"
In other words, if you have no expectations, you will have no problems if you want to find and hire copywriters. You won't even have to spend too much time vetting them – it really won't make any difference.
Of course, you can also find good freelancers on such websites. I found some of the best writers for Idunn this way.
But this means you may not succeed from your first ad posted. It also means you should never-ever go for the lowest bid.
Option #2: A Content Writing Agency
An agency comes with the advantage of already-vetted and competent writers. You don't have to come up with ways to test them.
And you won't have to spend so much time managing them, either. Any content writing firm worth this name has proprietary methods of briefing the clients and these are usually faster than those used by freelancers. In most cases, you won't deal directly with the writer.
Of course, the biggest advantage (at least in my opinion) stems from the fact that good agencies have writers that are specialized in more niches. This way, you can be sure that your ad copy is handled by someone with a marketing background and that your tech white papers are written by someone who really knows computers.
When you deal with an agency, you can also get a turnkey service. At Idunn, we also handle content strategy, keyword research, even posting on social media or on the clients' blog.
However, all these perks come at a premium. Expect to pay 20%-50% more for an agency's services than for a freelancer's (and I'm talking about good freelancers here).
Start the Vetting Process
Whether you find and hire copywriters that do freelance work or content agencies, you need to know a bit about their credentials. Check out their blog and ask for samples – these two are mandatory.
If you're hiring freelancers, you should come up with a testing process. A Skype call and a written test are always a good idea. If you're hiring an agency, you can skip all that and simply browse their portfolio.
Talk about the Work Flow
Before making the actual hire, you need to discuss how you are going to work together. Some of the things you have to establish include:
The information you provide (how detailed your brief has to be versus the amount of research the writers will do on their own).
Deadlines (if you are planning a monthly deal, establish a clear date when the work has to be submitted).
Time frame for completion (how long do the writers need to complete a blog post from the moment they have all the information).
Number of revisions included in the price (at Idunn, we offer unlimited revisions, but you should never settle for less than two)
Emergency fees
Get to Work
After signing a contract (or at least discussing all the items above), you should assign your first task. Ideally, you should start small. Even if you want to complete 50 articles, start with one or two. See how that goes. Find out if the agency or freelancer is a fit for your brand and if they can write in your voice.
It's in your best interest to be completely honest and transparent with the SEO copywriters you hired. Give them all the information they need and, if they want to try something you already know hasn't worked for your brand, let them know.
It doesn't serve anyone to have them waste their time on strategies you have already tried. You may not be in the same office, but you should be a team. And there's no reason why remote teams shouldn't work just as well as those who share an office space.
Evaluate the Results
Just because you worked hard to find and hire copywriters, it doesn't mean that you will never, ever have to repeat the process. If the work they provide you with doesn't produce results, you should start looking elsewhere.
However, note that it usually takes around one year for content marketing to start producing actual results aka ROI. Six months, if you're incredibly lucky or in a very small niche with little competition.
Again, you should be upfront about this with your copywriters. Tell them about the results you expect and let them know you will end the collaboration with them if they fail to deliver said results. It may not be easy to find and hire copywriters, but it's better to go through the process again than be stuck with people who can't help your business.
Want to work with copywriters who are always ROI-oriented? We have already tested and vetted the best of them in various niches. They're just a contact form away:
Let's talk!