If you think that Instagram is just for millionaire models who want to make a quick (but impressive) buck, it's time you check the news again. In February 2017, Mark Zuckerberg announced that Instagram has more than 600 million users and 400 million of them log in every day.
One may argue that most of them will still flock to see the photos of the above-mentioned millionaires. And one may be right.
But there's way more to Facebook that pretty dresses, glam and expensive beaches.
Especially if your social media strategy is right.
Instagram can help you with more than "Internet fame" and vanity metrics. It can actually give you data-driven ideas on how to boost your entire marketing strategy.
Before we tap into how to get featured on Instagram search and explore sections, let's see how you can benefit from them.
3 Ways in which the Instagram Search and Explore Features Can Help You Improve Your Strategy
Instagram has been design to facilitate the discovery of new content. Unlike Facebook that (at least in the beginning) was focused on family and friends, Instagram is clearly geared towards making relevant content shine.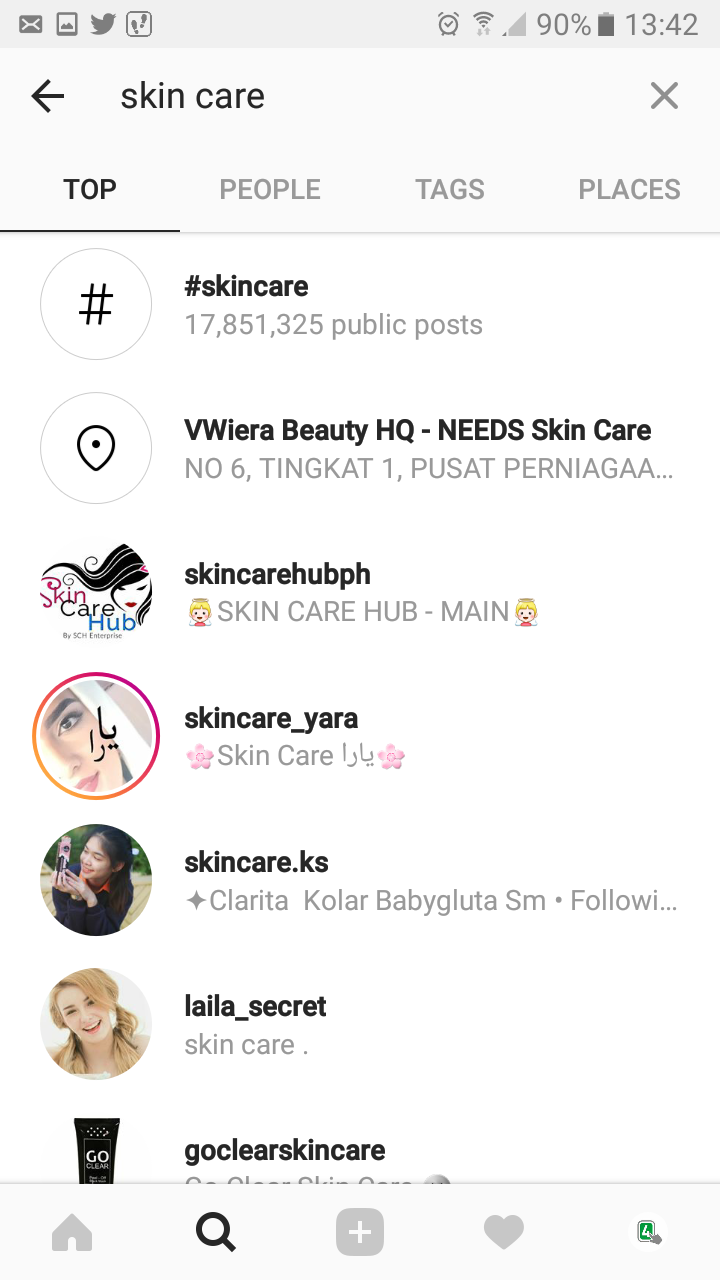 Thus, Instagram Search and Explore are fairly easy to use. Just tap on the bar, enter your keyword and you're good to go. You can even filter the results:
Top (best results irrespective of where they come from)
People (individual users of Instagram)
Tags (tags related to your search)
Places (for when you want to be geo-specific in your search)
These criteria are only available for mobile searches. You can also perform searches on a computer, but you won't be able to narrow them down using the filters above.
Of course, there are several factors that impact the results you may see. Just like in Google, sets of results vary from user to user. Or, as Instagram puts it:
"The search results you see are based on a variety of factors, including the people you follow, who you're connected to and what photos and videos you like on Instagram."
Now let's see how you can put these results to good use:
Find the Right Hashtags
If you use the "tags" filter, you can see what other people are using. The more posts with a tag, the more popular that tag is and the better your chances of being noticed if you use it.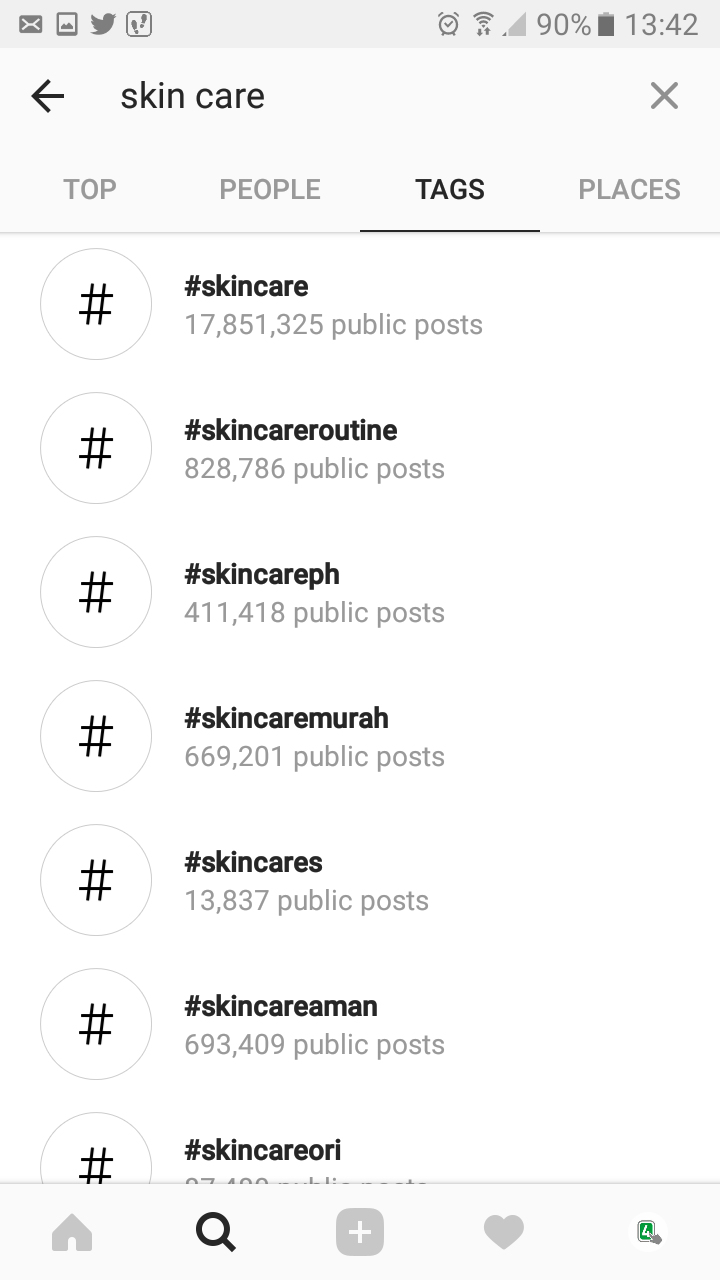 Needless to say, you should steer clear of brand-specific hashtags that don't belong to you, even if they are trending. Stick to generic ones like #skincare or #nightlife.
Find the Right Influencers
A while back, Idunn became the digital marketing agency of an exciting new beauty brand. Of course, Instagram was at the top of our priorities. And we did get some engagement and followers on our own.
But when we started to look for influencers using Search and Explore, things literally exploded. It was as easy as entering a few keyword in the bar and then reaching out to them.
Remember: Instagram is a social network first and foremost. Creating your own awesome content is important, but not as important as joining the conversation and "meeting" people with similar interests.
For the brand we were managing, didn't just lead to increased engagement. Instagram also become our number one channel for getting eCommerce sales.
Find Ideas for New Content
And I'm not just talking about Instagram or visual content in general. The Top or Explore filters can give you a pretty good idea about what people are interested in at a certain point.
Just like Twitter's trends, Instagram's Top or Explore can be the best places to get new ideas. If you act quickly, you can have a piece of authority content in no time.
How to Get Featured on Instagram Search and Explore
If you're a regular on the Idunn blog, then you must already know that the one thing I advocate for incessantly is quality content. This doesn't just apply to written content; it goes for visual, as well. In fact, in an era when photo and video content rules the Internet, it's more than a faux pas to use bad content on social networks like Instagram.
Thus, creating high-quality content is the first step in your strategy to get featured on Instagram Search and Explore. But you must have already known that, so let's get to more technical tips.
Don't Buy Instagram Followers
I've written about why it's a bad idea to do this at length here – Why You Should Never, Ever Buy Instagram Followers. It may work if you're a model looking to make it big, but it will never be a good idea for an actual business. And it won't help you get featured on Instagram Search and Explore.
Quite the opposite, in fact.
Do you know how you can spot an Instagram account with fake followers? You look at the follower count – engagement ration. If they have more than 20k followers, but less than 100 likes per photo, something's fishy.
As you may expect, Instagram can spot this, too. You have a better chance to get featured on Instagram Search and Explore if you have 1000 real followers out of which 50 engage with your content that 20k fake followers and 100 engaged fans.
Add Your Location
Just like any other social network, Instagram will show content that's relevant to users' location first. So, even if your posts don't have a local theme, add your location each time you create a new posts.
This is especially important if you use ads on Instagram. You will pay much less for them and have a better engagement rate if you target people in the same city as you. Do so for Instagram stories, as well.
Add Hashtags
But how many, right?
It's the first question that pops when you speak of Instagram posts. How many is just perfect, not too little and not too much?
TrackMaven discovered that nine hashtags is the sweet spot we've been all looking for. Of course, you can add up to thirty. And, as always, I encourage you to experiment, not use this as a sacrosanct rule.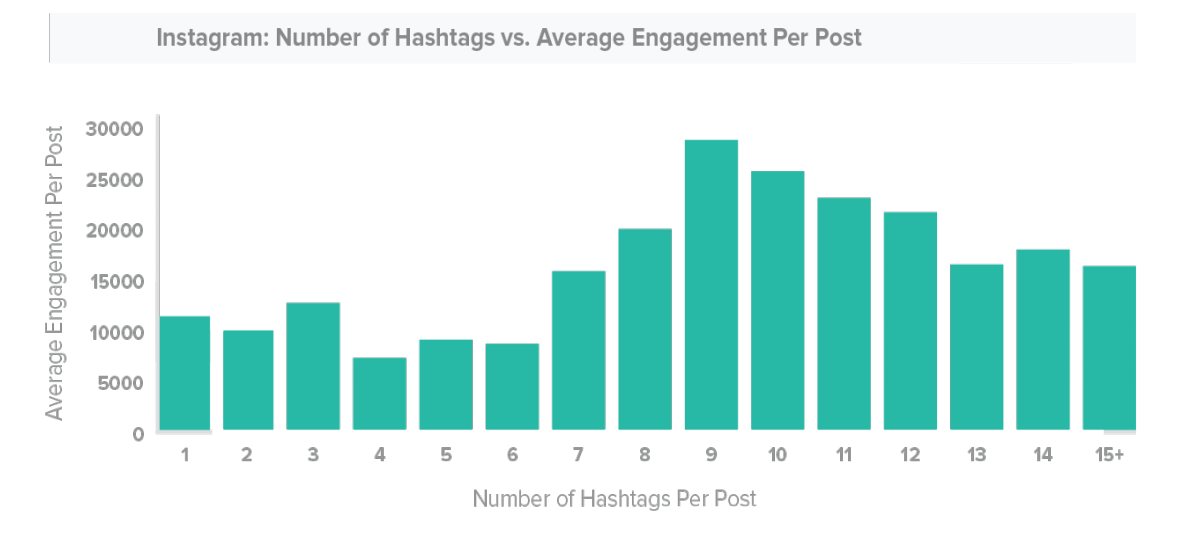 Image via TrackMaven
You'll see that, as you start typing your hashtags, Instagram will also make some suggestions. Don't ignore them. Look at the number of posts near each suggested hashtag – the higher this number, the better your possibilities for getting engagement and ultimately featured in Search and Explore.
Time Your Posts
Check Instagram Insights to see the time of day when a post is most likely to get engagement. This is when you should post most frequently. Granted, you also need to keep in mind that habits change and what used to be the perfect time three months ago is just an "OK" time now. Experiment with times of day and days of the week as often as possible.
According to Instagram, the posts that appear at the top of search results are the most popular ones aka the ones that got the most engagement. This is why finding the right time to post is crucial.
Even more, aside from "top" posts, search results are ordered by date and time. For users, this is an excellent way to get to see relevant content soon after it was published. For you, this means that you need to make sure that your posts are time stamped.
Create Live Instagram Videos
You may not get featured on Instagram Search and Explore from your first try, but live videos are always at the top. Plus, they are a great way to build a stronger follower base. In time, the new followers you acquire with live videos will boost your general engagement level and, consequently, increase your chances to get featured on Instagram Search and Explore.
Some live video topics that perform well are:
Q&A sessions
Behind-the-scenes videos e.g. A Day at the Office
Product reviews
Interviews with influencers in your field
Reports from a hot event that you are attending
Create Instagram Stories and Tag Influencers in Them
…but don't do it randomly. Tag an influencer only if you mention them or their work in your story. People love being noticed on social media, so they will most likely reply or even post a screenshot of your story.
Again, a great long-term plan to boost your engagement levels and ultimately get featured on Instagram Search and Explore.
Keep the Conversation Going
As explained above, top search results are those that got the most engagement. Luckily, there is a way for you to boost your engagement level without buying fake comments and likes.
When someone comments on your post, don't just "like" their comment. Keep the conversation going. Ask them if they tried other similar products. Ask them how long they've been in this field. Or simply ask them how their day is going – if the context is right.
Being Featured in Search and Explore Means Being at the Top of Your Game
Again, great content is always the best strategy for getting attention on any social network. When your posts are relevant, have excellent quality and you add the right tags, your chances to get featured on Instagram Search and Explore increase.
But that is not all the being at the top of your game means. You also have to find ways to keep the conversation going, comment on other accounts and, in a nutshell, be social.
Easier said than done, right?
Need help managing your Instagram and other social media accounts? Why not work with professionals who play by the rules and always get measurable results? We're just a contact form away.
Let's talk!