The top three press release distribution services send out more than 1,700 press releases every day. According to G2Crowd there are eight top distribution services. And, of course, countless smaller ones. This means that the number of releases sent out every day is much higher than 7,000.
Why do people send so many press releases?
Well, it's quite simple. If you ask SEO specialists, they would tell you that they are great optimization tools. Having a backlink to your website from a major wire service and, possibly, by publications that publish your press release is, indeed, a gold mine.
But a press release is so much more than that. If it were just about SEO, you could hire SEO copywriters instead of a press release writing service.
A press release is, first and foremost a piece of news. If it's not newsworthy, it's an advertorial that should never be submitted to a wire service.
Secondly, a press release is an excellent credibility and branding tool. You can use it to spread the word about a company milestone, a new product launch or an award your team received.
If written properly, a press release can get you more than media coverage. Of course, this is the ultimate goal: have as many publications and websites publish your press release and even contact you for more information.
A detailed coverage of the milestone presented in a press release, ecstatic reporters that want to know more and insane traffic is the dream of any press release publisher. But, on top of that (or correlated with that), an extremely well-written press release can get you social media buzz, a significant brand awareness boost and improves credibility.
After all, not many of your competitors have been featured in a major publication, have they? So why not try to move up a league by gaining coverage through press releases?
But should you do so on your own or with the help of a press release writing service?
Let's see.
The Benefits of Working with a Press Release Writing Service
Time Saving
Just like outsourcing content writing, hiring a press release writing service can save you a lot of time and hassle. That's true especially if you don't have a dedicated writer on staff.
And by "dedicated" I mean someone who's done this before (a lot!) or has a journalistic background. No one better to pitch stories to the media than someone who knows its inner workings, right?
For a newbie, even someone who has writing experience, it can take hours just to understand where to start. Press releases have a strict format that needs to be respected. And adjusting your tone of voice from blogging to press release writing isn't an easy task, either.
Nothing Beats Experience
Again, writing a catchy blog headline is one thing. Writing a catchy press release headline is completely different.
The first one just has to be catchy and maybe even SEO-friendly. The latter, however, has to be catchy, SEO-friendly and newsworthy. And that's hard. The best press release headlines answer the 5 Ws (who, when, where, what, why) and still manage to be click worthy.
Plus, an experienced press release writer can do much more for you than proper formatting. For instance, our press release writers have often managed to find new angles that put clients' stories in a much better light.
When you use a professional press release writing service, you don't have to worry about formatting. Impeccable formatting (even tailor-made to your wire service of choice) is one of the must-haves of any press release that a professional works on.
And format means more than you might think. According to PR Daily, this is one of the main factors in establishing whether a press release is news worthy or not.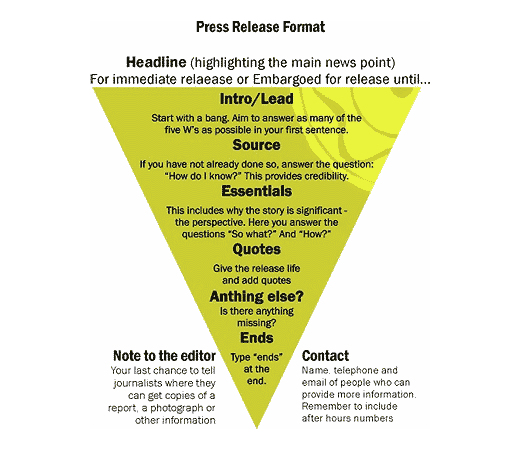 Image via PR Daily
An Error-Free Press Release
When you write web content or blog posts, a casual tone of voice is perfect. This entails a lot of contractions and maybe even slang terms. A grammar error or two have also been known to slip into blog posts.
But not into press releases.
That is unacceptable!
A press release that is not perfect from a grammar, syntax and formatting point of view irritates journalists and editors more than anything else. Just take a look at what this Sun editor thought of a poorly written press release.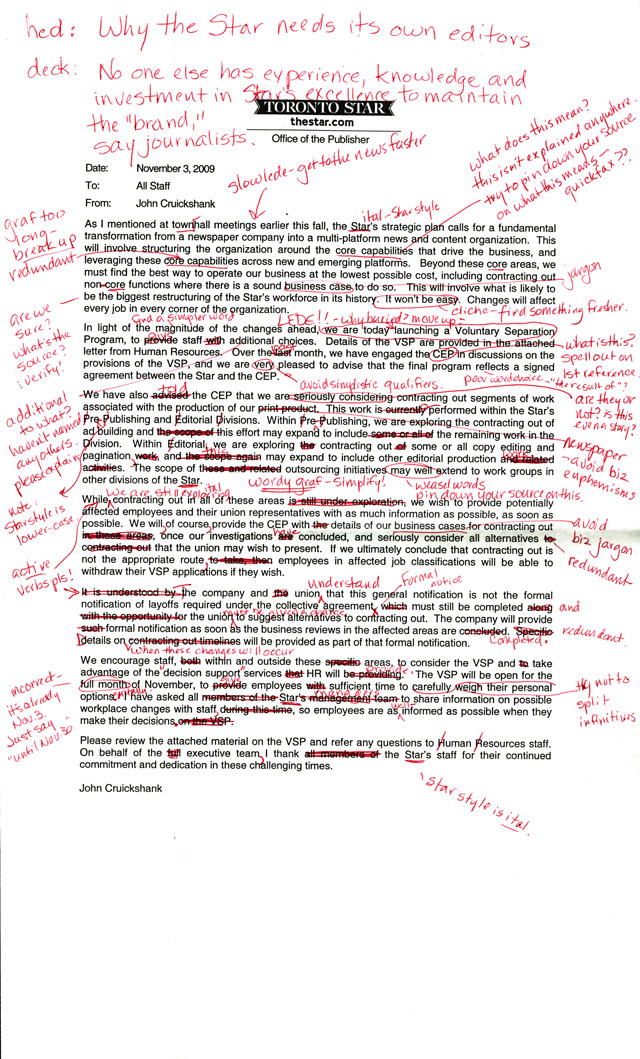 Image via Torontoist
A professional press release writing service would never let something like this happen. At Idunn, for instance, there is never a single person working on press releases. Before any work gets to the client, it is reviewed by two editors – just to make sure that it's flawless in every respect.
Extra Features
Some press release writing services offer extra features, aside from the writing itself. They can submit your press release to the wire service(s) of your choice or to media outlets. They could also track it and give you a full report of the results (in terms of both media coverage and social media exposure).
Such services don't just entail a completely hands-free experience for you. Tracking and measuring can help you adjust your PR efforts in order to get more out of your press releases in the future.
The Drawbacks of Working with a Press Release Writing Service
Nothing is completely good, so there must be some drawbacks to this, as well, right? Let's see what could prevent you from working with a press release writing service.
Budget Considerations
If you already have an idea about the cost of copywriting services, then you should know that press release writing will definitely cost more. Expect to pay at least double the cost of a blog article.
If you want to work with a good press release writing service, of course. Much like general or SEO copywriters, press release writers also price their work according to their knowledge and expertise in the field.
Briefly put, this means that the best cost the most. A press release designed to get media coverage and brand awareness for your company and product is not going to be cheap, but it will have a great ROI.
You still Need to Do some Work
Before hiring a press release writing service, you need to be very clear on what you want to convey and have a detailed brief. You need to communicate with the writers and let them know what you expect from their service.
You will also be providing the "raw" information to the press release writers. All the relevant data about the product, company or both, as well as quotes to be inserted in the release are up to you.
However, you shouldn't expect to spend too much time on this. The best press release writing services should give you a questionnaire that you can fill in in less than 20 minutes. This would help both of you: they get information they actually need without having to browse through tons of irrelevant data, while you get to work less. In the end, your press release will be ready sooner and will have optimal quality.
The Bottom Line
In the end, whether you work with a press release writing service or not depends on two major factors: your budget and your in-house writing resources.
If you are absolutely sure that your employees can write a perfect press release, there is no reason to outsource this. If not, upping your budget might make sense.
A solution that covers companies with low budgets and no in-house press release writers is alternating between the two options. You can a outsource some of your press release writing to a specialized company and create some of them in house.
Then, you can measure the results of both and see which of them brought you the biggest ROI. This is the only way to tell if hiring a press release writing service is worth the expense.
Looking for the perfect press release writing service? Congratulations, you just found it! Fill in the form below and let's make media magic happen!
Get in touch with expert press release writers