Back in 2011, an article entitled Why I Will Never, Ever Hire a Social Media Expert created quite a bit of a fuss. The article itself was written so that it would spark controversy. I won't insist on it, I wrote an article about reasons to hire a social media expert when I first stumbled upon it. And I think that's enough attention for what is clearly an obsolete viewpoint.
If in 2011 it was somewhat acceptable to claim that there is no such thing as an expert in social media, in 2017 it's clearly not. The evolution of search queries for social media manager proves it conclusively.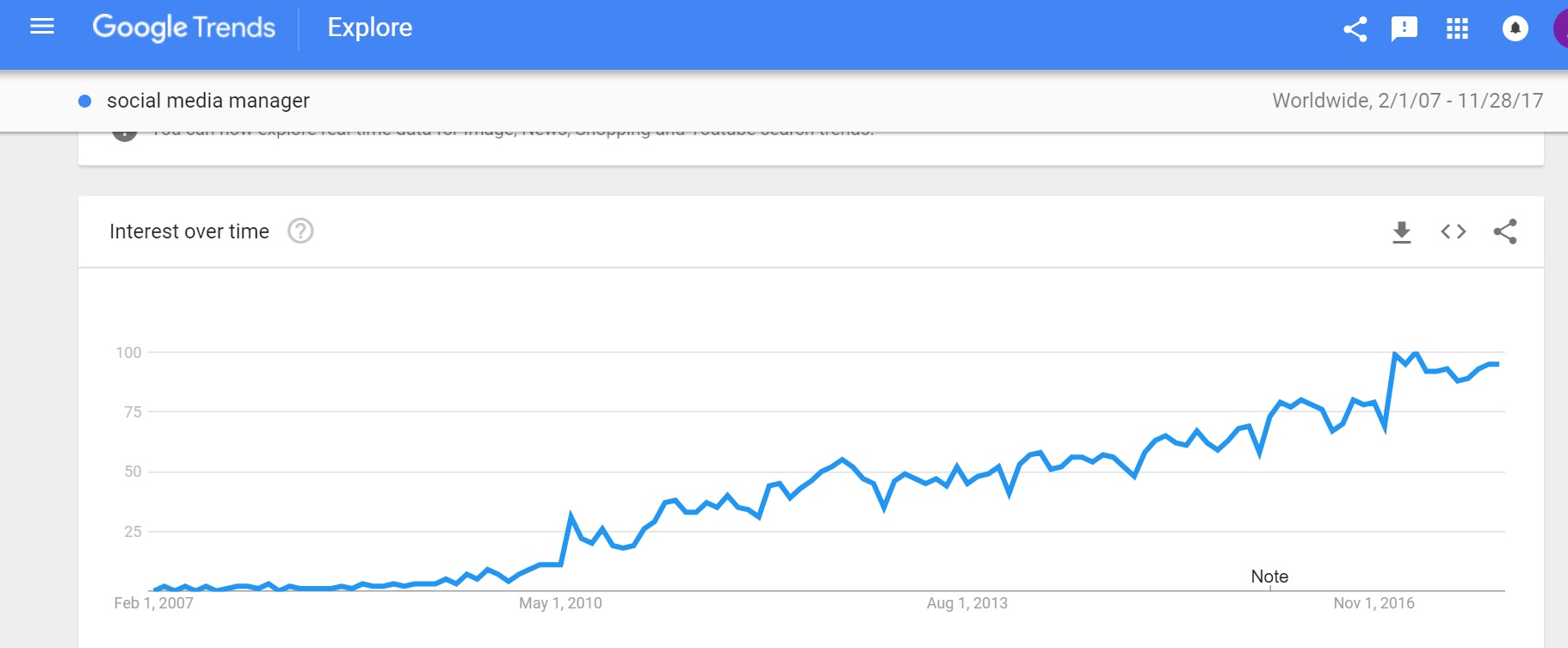 Given the way the social networks change algorithms and rules, it's obvious that each company, irrespective of size, needs to hire a social media manager. The sheer amount of work needed to keep a brand afloat on social media is enough to prevent business owners from believing that anyone with a personal Facebook profile can do it.
But simply making the decision that you need to hire a social media consultant or manager is not enough. You also need to find, interview and negotiate with several candidates until you can hire the social media manager that fits your brand like a glove.
At Idunn, our social media marketing and management services require us to have some of the best specialists on staff. So I am constantly looking to hire social media consultants. In order to get to the best of them, I need to know what I'm looking for.
Without further ado, here are the top 10 skills to look for when you hire a social media consultant.
10 Skills to Look for When You Hire a Social Media Consultant
While the actual hiring process may differ from company to company, the skills a social media manager needs are almost the same irrespective of location or other variables. Of course, a tech company may need to hire a social media manager that knows a bit about their industry.
In my experience, in fields like home automation, SaaS or IT services it's usually helpful if you hire a social media consultant who with tech inclinations. Since we are specialized in the tech field, I am quite certain that industry knowledge and tech expertize make a significant difference.
Now that we have this covered, I'm going to refer about the skills a good social media manager or consultant needs in any industry.
Copywriting Skills
I've written tons of articles about the importance of hiring professional writers. Granted, almost all of them were related to website copy, sales copy or any other type of content.
However, copywriting skills are immensely important when you hire a social media manager, too. Perhaps even more important.
If a bad blog post headline can be sometimes saved by the impeccable body that follows, on social media you never get that chance. You have to get the attention of your fans/followers, get them to click, like or engage with your post in any other way in 280 characters or less.
That's it!
No backsies, no second chances.
If your social media manager sucks at writing, no impeccable video or photo gallery will save your brand.
Plus, think about the bio/about sections on any social media profile. They need to entice people to follow your brand without the help of graphics.
How can you swing that with no copywriting skills?
General Social Media Knowledge
Yes, it's nice if your new social media manager has some background in your industry. It may even be important sometimes.
But what's more important is that you hire a social media consultant who knows…social media.
And I mean really knows.
From Facebook's Power Editor to the up-and-coming social network that very few brands use, they need to know about every single piece of news and update. Otherwise, how can they give you an edge over your competitors?
Even more, it's only in-depth knowledge of social media that can help an expert create a compelling strategy for their clients. Before advising you on what social networks to focus on, they need to know the ins and outs of all of them.
Community Management Skills
When you hire a social media manager, they are your brand. They need to borrow your voice and use it to build communities around your brand.
Social media is the preferred channel for customer care. But so few brands get it right.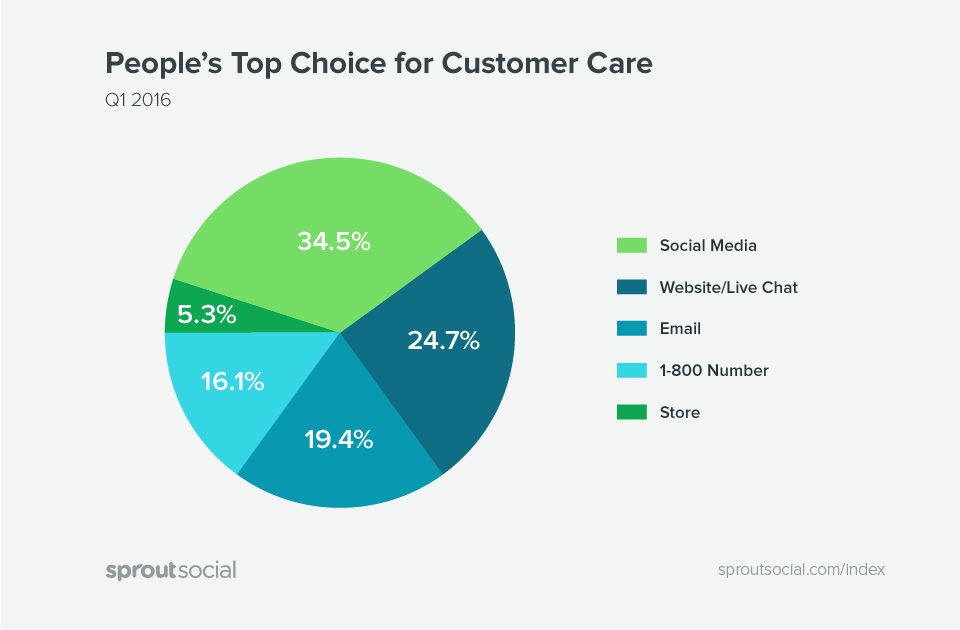 Image via Sprout Social
Waiting for too long until you answer a message or address a bad review is one of the biggest mistakes a social media manager can do.
According to the same study by Sprout Social, brands take an average of 10 hours to respond to a message on social media. However, users are willing to wait for 4 hours at most.
What happens after the 4 hours?
Well, they either move on to your competitors or start to berate you on social media.
None of these is acceptable!
Of course, community management means so much more than answering messages. It also means engaging people and turning them into real fans, not just social media followers. This is why you need to hire a social media consultant that excels at building a community, not just a large following
Marketing Knowledge or Background
I've said it hundreds of times: my number one priority is to staff my agency with people who know marketing or have a natural flair for it.
It goes for SEO copywriters and it definitely goes for social media experts.
Let's say you hire a social media consultant with 0 marketing background. How will they be able to create a strategy for you? How will they be able to identify what works and what doesn't and what has the potential to distance you from your competitors?
Irrespective of their copywriting or graphic design skills, if the social media consultants on your short list haven't spent at least one year of their lives studying or doing marketing, don't hire them!
Adaptability
Never hire a social media manager who has a unique formula for all the clients.
There is no one size fits all in social media.
No matter how similar two brands may be, they still need a different approach to their social media strategy and management. This is why, at Idunn, we don't have standard packages. It would have been so easy: pay $500/month and we'll post every day. Pay $800 and we'll post twice a day.
But on which networks? What will we post? Will our posts help you get new business?
Whenever we onboard a new client for social media services, we like to know as much as possible about their strategy (or create one for them if they don't have a strategy in place yet). Afterwards, we can come up with a detailed proposal that explains the social networks that are relevant for their business goals, the frequency of posting and the type of posts we'll create for them.
And, of course, a personalized price for these personalized services.
If a social media "expert" tells you everyone needs to post 5 times per week, run! There are no such things as "everyone" or a pre-determined weekly/daily/monthly quota in social media. Adaptability, flexibility and responding to the fan base's preferences are crucial.
The Ability to Align to Your Business Goals
Social media is not a goal in itself. Neither is the number of clicks, likes, followers or any other vanity metrics.
Your social media channels are there to support your business goals. Boosting your revenue, getting leads, converting leads, nurturing leads or getting sales are a few examples of valid business goals.
Make sure you speak about them during the hiring process. And make sure you hire a social media consultant that will work relentlessly to turn them into reality.
Ask for examples on how they met similar goals for other clients. If all they have to show for their work is the number of likes and followers, then you need to look elsewhere.
Tech Savviness
Sendible, Buffer, Agora Pulse, Hootsuite, BuzzSumo, SEMrush are just a few of the tools my team and I use to manage and research social media accounts for our clients.
We adapt to new tools fast and we learn fast.
We know that we must do this. Some clients have their in-house tools, while others rely on the ones we recommend. Thus, flexibility is crucial.
And so is adaptability to new tools. Every day, a new social media tools appears or an old one adds new exciting features. If you hire a social media manager who takes a month to learn how to use these new tools or features, you'll lose significant terrain.
Speed is so important on all things related to social media management and marketing. I can't stress this enough. But there can be no speed if your social media agency or expert isn't comfortable with the technology that empowers savvy marketers today.
Organization Skills and Efficiency
The to-do list of a social media manager is incredibly long. However, the list of possible distractions is longer.
Since we spend most of our time on social networks, all it takes is a funny video to throw us down a deeeeep rabbit hole. Click after click and funny video after funny video, you realize you wasted two hours doing nothing (of consequence for your brand, of course).
This is why social media experts need to be more organized than, perhaps, any other member of a marketing team. This is also why I recommend that when you hire a social media consultant, you pay them with the monthly retainer or a flat fee instead of an hourly rate.
You should only pay for results and work done. If the social media manager you hire chooses to spend two hours of their day watching cat videos, this will be of no consequence to you.
Decisiveness
Should you offer an apology after a bad review or investigate first?
Should you make a joke?
How do you tackle a sensitive issue brought up on your social profiles? (think discrimination/racism-level)
As the Sprout Social study cited above shows, people expect brands to reply on social media in 4 hours or less. If you take more than that to address the issue, no matter how complicated and sensitive, you will lose major points.
The solution? Hire a social media manager who knows what to do and isn't afraid to act. This doesn't mean you should hire hasty people. Just people with enough background and experience in all kinds of situations.
Analytics Skills
Yes, you need to hire a social media consultant who's also an analytics guru. You need someone who can take a look at analytics report and immediately know what was wrong with your last campaign. And, of course how to fix it.
Again, this takes us back to experience and tech savviness. Better yet, someone who relies heavily on analytics is bound to find it easy to meet your business goals.
My advice: when you interview social media managers or agencies, ask how often they check reports and analytics. Ideally, it should happen once day. Even more frequent during major campaigns or busy seasons.
Want to hire a social media consultant or manager that can turn your social profiles into cash machines? You are so close! You found the right place, now all you need to do is fill in the form below.
Talk to you soon!
Let's talk!