Most of the B2B clients we work with at Idunn have the same requirement, whether they hire my agency for marketing strategy, copywriting, social media or another service:
"I need more leads".
And I get it.
Lead generation is important for any company.
But I also have to ask:
"What are you doing about the leads you already have?"
The most frequent answer I get is a long silence followed by "we email them regularly". That's it! Very few companies actually have a lead nurturing strategy in place.
And that's a damn shame. It translates to countless missed opportunities.
If your business is not a brand new one, then you definitely have some leads hidden away on your social media profiles or your email list. They just need to be "activated". In other words, they need to see some brilliant lead nurturing tactics in place before they take action.
Don't worry; we'll get to the lead nurturing tactics. But let's start with the basics.
Lead Nurturing – What Is it and Why Do You Need it?
Lead nurturing is the process of being there for your potential customer at every stage of their buyer journey. Even if they don't convert from the first email you send or from the first contact with your website, you need to be there to guide them until they take action.
In fact, very few leads are ready to convert from the get-go. What will you do with the rest? Forget about them? According to Marketo, 50% of the leads in any system are not yet ready to buy. "Yet" is the keyword here.
Unless you want to miss 50% of your opportunities to get new customers, you will implement some lead nurturing tactics.
In the era of inbound sales, we can no longer afford to simply push people to buy something. As marketers, we have to be there every step of the way, respecting the lead's process and the time they need to make a decision. We also need to be there to offer any help they may require to make that decision.
This is where lead nurturing tactics come into play.
And, if you're still not convinced you need them, here are a few more numbers you can crunch while you make that decision (see what I did there?):
Companies that have great lead nurturing strategies in place generate 50% more sales ready leads. Their cost is 33% lower.
Nurtured leads typically make 47% higher purchases than non-nurtured leads.
Only 36% of marketers nurture their leads, so you can have a great head start.
Now let's get to more serious things.
7 Brilliant Lead Nurturing Tactics to Help You Boost Your Conversions
From the discussions I had with my clients and other marketers, I realized that, for some people, lead nurturing sounds amazing. But very hard to implement. Almost everyone will tell you that they need lead nurturing strategies. Still, very few people could name a couple.
Let's put an end to that.
Use Targeted Content
When it comes to lead nurturing tactics, one thing is certain: segmentation is crucial. For niche industries or companies that need very few clients, I would go as far as implementing direct, unique communication programs for each lead.
In 2014, 33% of B2B marketers said their biggest challenge was to deliver the right content to the right person at the right time. And I'm willing to bet that things haven't changed so much in this department.
Being able to deliver that means that you know your buyer persona(s) in-depth. It also means that you can learn even more about them with every interaction. Thankfully, we now have tools that help us track interactions and lead behavior.
These tools can also be of assistance in establishing where on the buyer journey a certain lead. Again, this helps with knowing what content to send and when. It also helps us marketers learn whether a lead will become a client or it's a lost cause.
Marketo suggests an interesting scoring system.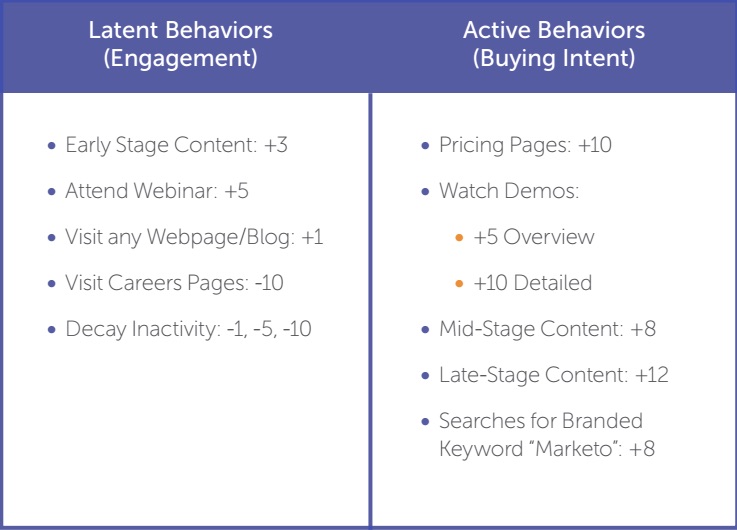 Image via Marketo
Here's a breakdown of the types of content that generally apply to each phase of the buyer journey. [Please note: this is just an example. Actual content types and their thoroughness will vary greatly from company to company.]
The awareness stage: in the initial phase, your lead needs content that addresses broad questions. Blog posts are the most popular choice here, followed by white papers and ebooks.
The consideration stage: your lead is considering whether to buy the product or not, so they need more in-depth pieces of content. Case studies and in-depth white papers are ideal, along with webinars.
The decision stage: this is when you need to convince leads to choose your product instead of your competitors'. Free trials, testimonials, vendor comparisons and demonstrations are your best lead nurturing tactics.
Make the Most of Your Email Campaigns
Again, segmentation is the key to success here. Send out content, but don't just send all your content to everyone.
For instance, if my agency were to have a lead for social media services, we wouldn't send them our blog posts on hiring the perfect copywriters. Instead, we'd show off our post on Pinterest SEO or the one that highlights the top reasons why one needs to hire a social media expert. Depending on where the lead is in their buyer journey, of course.
You can always follow up on every touch point via email. Ask leads if they want to arrange a consultation, if they need additional content on a certain topic, if they would like to attend one of your webinars and so on.
Email is a valuable tool for a lot of lead nurturing tactics. Despite the countless channels available to marketers, email is still non-intrusive enough and yet personal (and easy to customize) enough to help you get your point across.
Use Multiple Channels
With an average of 20% open rate across industries, email needs a bit of backup from other channels. Yes, it's affordable and quite easy to use, but it doesn't mean it should be your only channel.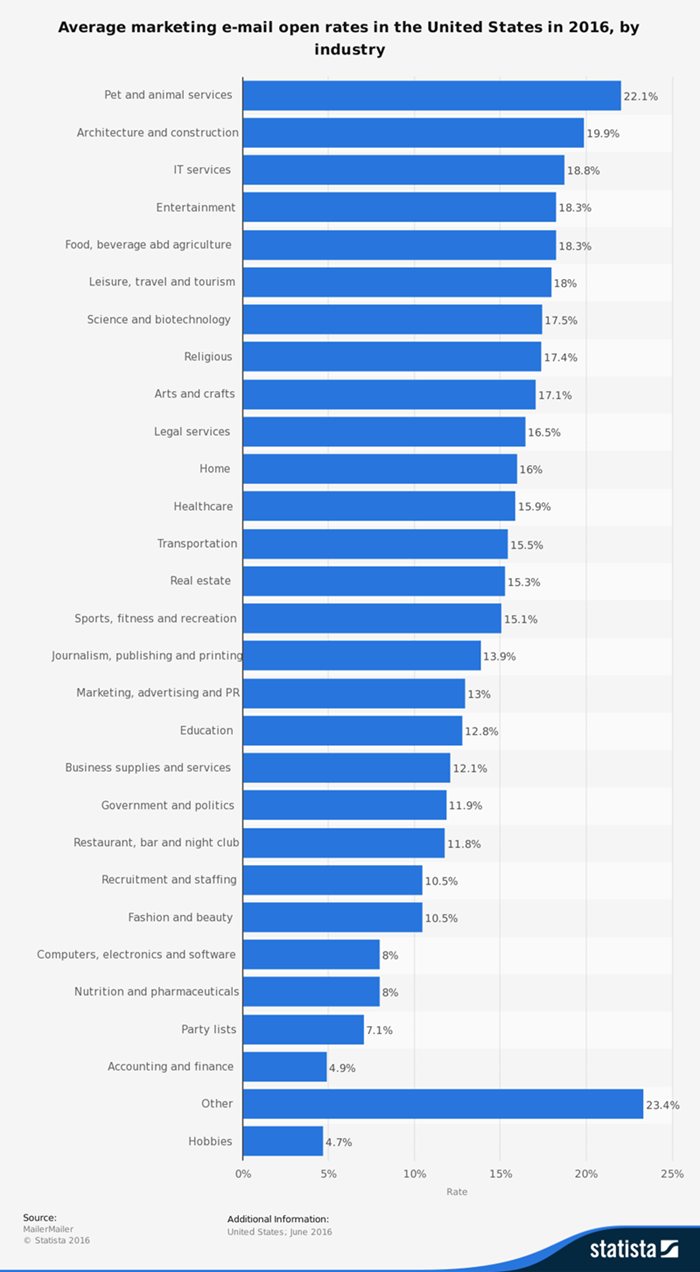 Image via Statista
How does a multi-channel lead nurturing strategy look like?
I'm glad you asked!
First of all, we all need to thank marketing automation for giving us the chance to quickly implement effective lead nurturing tactics (and so many other things!). Of course, multi-channel strategies vary from company to company and, ideally, from buyer persona to buyer persona. Generally speaking, they are a combination of email marketing, paid retargeting, social media, sales outreach and even dynamic website content.
A few examples of successful lead nurturing strategies are paid retargeting + email marketing, social media + paid retargeting + sales outreach or email marketing + social media + sales outreach.
One thing you want to avoid, though, is overdoing it. Multi-channel lead nurturing tactics can be amazingly effective, but not if you look like a stalker. Remember that today's buyer is internet-savvy, so they don't have to wonder how you read their mind and served them a certain ad. They know why you did it and, if you'll keep popping up in their social media feeds, they'll literally start hating you.
As always, moderation is key. Or, in the words of Greek poet Hesiod: "Observe due measure, moderation is best in all things".
Empower Sales with Lead Nurturing Materials
The legendary feud between the sales and the marketing department never made less sense than today. Customers don't respond to pushy salesmen shoving useless products down their throats. Instead, they need someone who takes the time to understand what they really need and offer them just that.
Along with relevant information, of course.
There are few lead nurturing tactics more effective than a strong cooperation between sales and marketing. Sales reps are those who know best what questions prospects ask and what are the areas where marketing and sales materials can be improved.
Upon receiving the reports from sales, it's up to the marketers to take that information and turn it into lead nurturing magnets. Listen to your sales reps carefully – they are the ones who can tell you if you need to stop wasting time on creating white papers or if your case studies are irrelevant.
89% of companies who managed to align their sales and marketing departments reported significant increases in the number of leads that turned into opportunities.
Use Multiple Touches
A marketer's biggest dream is that a prospect who reads a blog post or a landing page will immediately fill in the contact or the order form and become a lifetime customer.
Wouldn't that be nice?
However, if it were also true all we'd need to do is hire SEO copywriters and watch the magic happen. Sadly, a prospect needs more than a blog post to turn into a customer.
How much more?
Well, it depends. One report from Aberdeen says that it takes about 10 touches, while another report from Demand Gen says that 49% of marketers need to rely on roughly 5 touches for the journey from lead to customer to be completed.
Either way, one thing is certain: one phone call, one chat, one blog post or one white paper, no matter how good, won't seal the deal.
Use Third-Party Content
No, not your competitors' content.
Your customers need more than your word that your product or service is worth the money. Use research reports, case studies, sociological and psychological finds from reputable sources to help prove your point.
Selling custom videos?
There are tens of reports that clearly say video reigns supreme over all types of content. Use those reports in all the content you send your leads' way.
Go Beyond Your Website
When you ask marketers about the communication channels at their disposal, they typically think about their company's own website, blog or social media profiles. But why restrain your lead nurturing tactics to these?
Since you (hopefully!) already know your buyer persona better than you know your best friend, then you must also know what they like to read. Which are their favorite publications? Who are the bloggers they follow religiously? What media outlet accompanies their morning coffee?
Answer these questions and you'll know where to place your lead nurturing content next.
Need help designing or implementing lead nurturing tactics? You have come to the right place! We've been doing this for years and we'd love to have our expertize work for you. Fill in the contact form below and we'll take it from there.
Let's talk